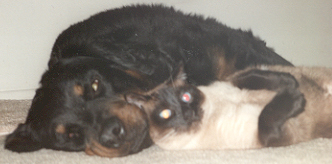 Aren't they sweet!!!
The more popular large breeds are often "over-bred" by idiots who think they are going to make money doing so. Well, the cost of raising a healthy litter is not cheap. So, hopefully they learn their lesson. However, puppy mills mass produce dogs, and don't care if the puppy needs medical attention or not. The mills will let the puppies die if they get sick and breed the mother again. Consequently, their costs are low... (Click this link to find out about Pet Overpopulation)

Many people buy puppies, but when they get big, no longer want them. However, dogs can become homeless at all ages, from young puppies to senior citizens. There are advantages and disadvantages to all ages. It really depends on your lifestyle and the level of commitment you have to offer your pet. Young dogs are great companions for someone with a lot of energy and willing to make the 10? year commitment. Older dogs are usually lazier so they are less demanding of your time.